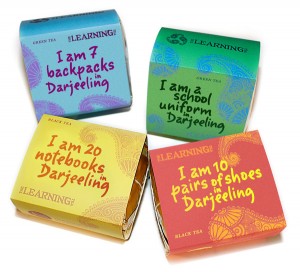 Grown in the mountains, Darjeeling tea is often called the "Champagne of Teas" and is well known for being one of the world's most favorite teas.
Beyond the unmistakable flavor, it's also quite revered for its health benefits, including possibly helping to prevent pneumonia, skin infections and cystitis, as well as slowing and preventing cancer growth. Some researchers even estimate that both green and black teas have 10 times the amount of antioxidants found in fruits and vegetables.
Christie's efforts to bring the best Darjeeling tea back were an impressive journey of their own; she traveled to 6 tea plantations, tasted over 100 teas, visited at least 10 tea villages, 4 drying factories, met everyone in the tea industry from pickers to the local Tea Foundation President, and smelt dirt, leaves, bark, seeds that all chronicle the tea's cycle of life.
After all her research, she considered the conditions of the pickers at each village and the flavors of all teas and chose the smoothest, most organic, rich Darjeeling tea she could find. All of the tea sales will go towards supplying young women with  funding for a college education,  room and board, food, clothing, medical benefits, school supplies and any other basic life necessities.