Monday, September, 30th 2013
Doors open at 6:30pm – Dinner at 7:00pm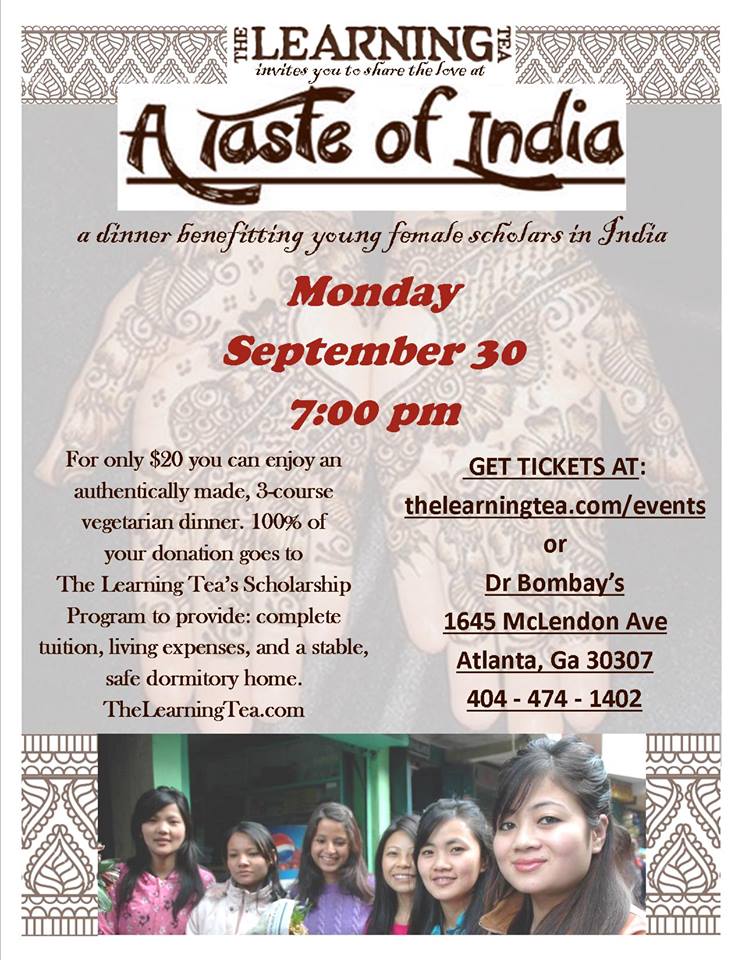 The Learning Tea's monthly Indian dinner is at Dr. Bombay's on Monday, September, 30th 2013!!! Come enjoy the tastes of Authentic Indian Cuisine and help us enroll our Darjeeling girls into University this semester. $20 buys you an enormous 4-course meal. 100% of proceeds go to The Learning Tea's Life Scholarship Program! These dinners are our main source of fund-raising for the girls, your attendance is greatly appreciated on numerous levels, all over the world. Join us for a wonderful time and help those less fortunate in Darjeeling!
Thanks for your support! -The Learning Tea team
The Learning Tea's mission is to provide life scholarships to impoverished young women in India by giving them the opportunity to continue their education through university. The Learning Tea pays for complete tuition and living costs for our young scholars while providing a safe and stable dormitory living environment.
Dr. Bombay's is located across from the Candler Park Market at the intersection of McLendon Ave  & Clifton Rd.
Dr. Bombay's Underwater Tea Party
1645 McLendon Ave. Atlanta, GA 30307

View larger map